blog ini lately kok jadi agak nyasar jadi blog beauty. halah. gapapa lah ya, dikiiittt...
beberapa hari kemaren gw sedang sangat enerjik dalam mengkaryakan mata. kaga peduli muka lagi breakout dan alis menghutan, saya tetap tampiiiillll.... buahahaha!
yang ini judulnya golden-purple. i think it's not an ordinary combination. tapi ternyata hasilnya ya lumayanlaaahhh... kembali mengkaryakan pigment rose gold yang tadinya gw benci banget (karena entah kenapa pas make pertama kali gw instantly ngerasa kaya penganten, not in the good way) tapi sekarang jadi cintaa.
kemudian gw merasa, i really need another purple eyeshadow! okey, maybe a few more purple eyeshadow. satu mana cukup cyiiiinn... buahaha!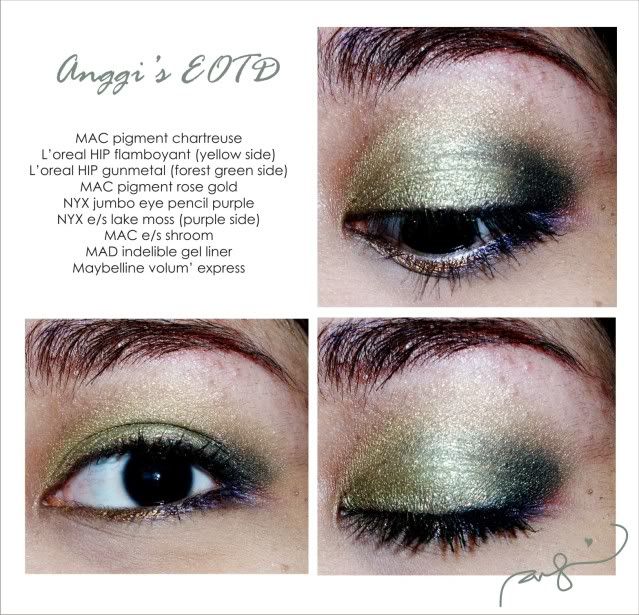 setelah itu gw menghapus mekap yang di lid dan menggantinya dengan si ijo2 ini. kali ini ijonya gw campur kuning, dan chartreuse, my new favorite pigment! entah ada apa dengan gw dan eyeshadow ijo. i got a lot and still want more! huehehehehe...
btw, i need highlighter. baru sadar, highlighter gw cuma shroom, dan itu juga kurang cucok buat kulit gw yang yellow toned ini. i'm so lack of eyeshadow color. please tell that to my hubby. :D