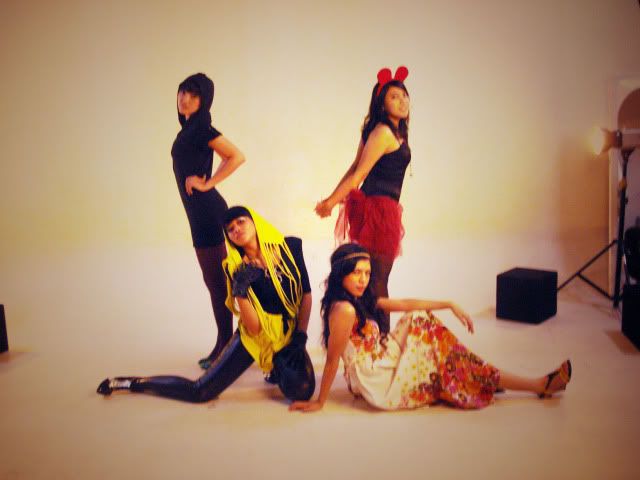 if you have a big question mark inside your head, we did this photoshoot for no reason but fun sake!
i'm trying lady gaga-ism. not even close without the platinum blonde hair, i know. i'm an asian gaga. hahahaha....*maksa deh ah*
yah, ngga lady gaga, sarden gaga aja deh gwa...:D
btw, this is one way you can go with the krey shawl. love it bangets!
my friends ask me if i bought all the item i wore that day for this photoshoot particularly. i have to emphasize the fact that i had them before this planned. they don't easily believed someone actually wore latex legging to hang out. and they found krey shawl weird, especially with such bright color. oh, please. and the top is my aerobic top from years ago, nothing special about it. except the bold shoulder i made from plugging vella's shawl and aswin's sweaty towel (ew). ahaha... kreatip kan ayeeee...
after the photoshoot we went to karaoke parlor (acara super wajib), then headed to (apparently) the most happening place in Bandung, the nanny's pavillion. it was packed! we were far from got seated and our tummy was furious, so we decided to change our direction to the foodcourt besides, called black market. not bad. i had grilled ribs with soy sauce and pempek afterward. porsi kuli. and i met some of my college friends Rhilly, Runi and Riri (semuanya berawalan R ya bo?) also high school friend Shita there. bandung is so small, you can tell.
after the big treat for our tummy, we moved to the coffee beans. i had my favorite green tea latte and we were stay there all night laughing to each other and taking photos.
great night, especially when you don't have to spend much money. haha..
thanks Danar, Aswin and Rian for your treats!