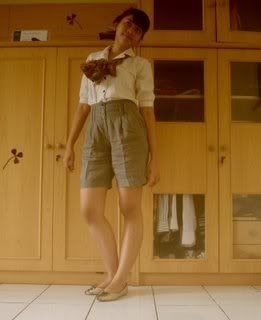 It's hot today, so I decided to wear something breezy! I found this pants in my (messy) drawer, and pull everything instantly. I'm glad I can wear anything to work, including shorts, as long as I wear proper footwear, or looking good ;-)
I really like the scarf, since I'm in love with anything animal print! Haha!
Actually, the blouse has its own scarf. But since it's black, I don't think it will matched the whole outfit, so I changed it with this little leopard print.
And I love the bag too. But I don't wear it a lot.
Btw, I would like to purchase some everyday earrings, but I don't know what to buy. Guess somebody could help?
Oh! I'm glad the hot-ness (I mean, the weather) lasting long till I finish my day! (I have such a bad luck of matching weather and outfit recently. *sigh*)
Blouse: every (by me)
High-waisted pants: mango
Scarf: tie rack
Shoes: YK@metro
Bag: every (by me)